December 8, 2020 0 Comments Cars, Luxury
McLaren Newport Beach Spotlights Benny Mor!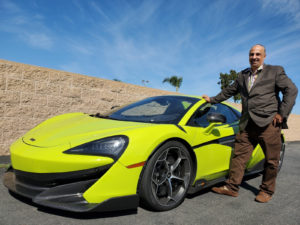 Benny Mor, the founder of Vasco Assets, has been respected throughout the community and around the world for over 35 years. His exquisite taste and style are highlighted in McLaren Newport Beach's Client Spotlight.
Since arriving in the U.S.A in the 1980s to take on the gold and diamond trading industry, Benny has carved out quite an impressive reputation for himself.
Not only has he proven to be a pillar of financial strength throughout the community with his luxury investment fund and charitable ventures, but he also proves that he can both work and play hard.
"Mr. Benny Mor has been a client of McLaren Newport Beach since 2016 when he purchased the very first 570S Coupe to land at our dealership. Benny was born in Israel, and came to the US in the 1980s to pursue an opportunity in the gold industry. Shortly after, he moved into the diamond industry which is what he continues to do to this day, alongside his global luxury investment firm.
Benny originally fell in love with the McLaren brand when he and his son took a test drive in our first 570S (which he purchased shortly after) because he felt connected to the vehicle from the moment he pushed the accelerator for the first time. Although he has owned and driven many other exotic vehicles, his McLarens are the ones he has enjoyed the most due to their agility around turns, and the light feel of the cars. Benny has owned 4 McLarens, all purchased from McLaren Newport Beach, and is currently enjoying his 600LT Spider which he says is the most fun car he has ever owned.
As for any future models, Benny is looking forward to getting behind the wheel of an Elva, he is very curious about the open top concept, and can't wait to see one in person once they hit the US. His future plans include taking his McLaren on the Gumball 3000 rally, and researching the new 765LT to potentially replace his 600LT. When he's out and about, Benny frequents "The Drake" in Laguna Beach, his favorite spot to visit in OC due to its relaxing setting with live jazz music to accompany your meal."
Due to Benny's vast experience in the world of luxury assets, he is certainly no stranger to exotic sports cars and the finer things in life. His business, Vasco Assets Inc. is a privately held financial institution located in Newport Beach, California.
Vasco Assets has over 35 years of industry expertise from investing, lending, buying, and selling of luxury items to collaborating with charities in developing custom offerings and much more. Vasco Assets cultivates long-term, multi-generational relationships with his clients.
Vasco Assets' diversification in the global economy helps maintain its position as an independent international institution that is not subject to the fluctuations in the market conditions.
If you're interested in receiving cash for your luxury assets including gold and diamonds, don't hesitate to contact Vasco Assets. With a reputation of excellence throughout the community and the globe, you can rest assured that your experience with Vasco Assets will be a lucrative one!
---