July 15, 2021 0 Comments Diamonds, Gold, Luxury, Watches
Selling Estate Jewelry: How Vasco Can Help You Get a Better Price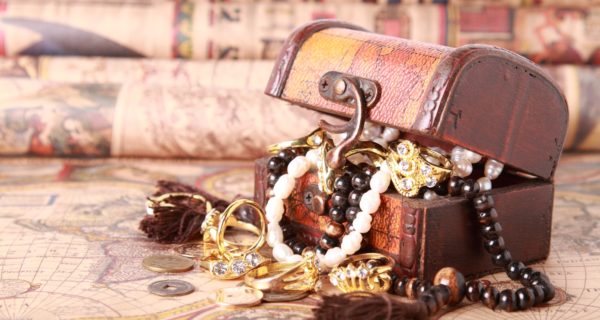 When her mother died, Anne Hermick inherited a prized jewelry collection: An 18k gold bracelet encrusted with diamonds, a platinum brooch, and a small pile of earrings and precious metal rings. 
Anne was in the final year of college. She'd been saving up for medical school, but it was too little to make a difference. That's when Anne decided to sell her estate jewelry. She approached many estate jewelry agents to sell her estate jewelry in Los Angeles but was disappointed to find that their quotes were significantly below what she was expecting. 
She reached out to Vasco Assets after a recommendation from her aunt, who is an old client of ours. Our appraiser examined the jewelry for free and broke down its market price based on its design and historical value. We explained to her the intrinsic and extrinsic worth of the gemstones that went into the making of the brooch, the current market value of the branded earrings in their original packaging, and the rarity of the cut-diamonds on the bracelet. The most interesting part? We went through some of the assorted rings Anne kept in a pile. We discovered a 3.5 carat diamond ring with a five-figure valuation, that turned out to be the highlight of the set. 
Armed with all the information about the current market value of her collection, Anne was shocked to learn that our quote was significantly higher than all the appraisals she had received. Anne happily decided to sell her estate jewelry to us and earned a total of $45,000 in cash for her collection. She is now preparing for med school!
How Do You Sell Your Estate Jewelry?
If you know what it's worth, estate jewelry can bring a lot of cash, especially limited edition pieces from well-known jewelers like Cartier or Tiffany. There are collectors out there who not only like to wear these pieces, but also collect them for their intrinsic worth. More than material value, the antique jewelry market is driven by its context in history. That is the reason why Princess Diana's engagement ring, bought at $60,000, is worth nearly $400,000 now. 
There are many reasons why you'd want to sell estate jewelry. Pieces inherited from loved ones often hold immense sentimental value.  This can make it hard for new owners to wear it.  
A lot of the time, older estate is simply no longer in style. Or you're just not a jewelry person! 
If you've recently come into possession of estate jewelry, here are some actionable steps from Vasco Assets to help you maximize its sale value.
1. Should You Tidy It Up?
The first impression is the best impression. When it comes to estate jewelry, this often means that your first impulse is going to be to tidy or clean things up. We would not recommend doing this. Why? Professionals will be able to assay your jewelry, regardless of its superficial condition. And if you try to clean things up at home, you might damage the pieces. We suggest bringing your jewelry in an "as-is" condition. 
If you have the original packaging, however, it's a good idea to present the jewelry in that. For collectors, antique jewelry from a premium brand in its original packaging will be hard to pass on. At Vasco, we'll offer you as much as 20% percent more for estate jewelry in its original packaging, with accessories. Keep this in mind as a rule of thumb. Intact packaging will bring you more money when selling estate jewelry.
Don't worry if your jewelry is not in perfect condition or if you're missing packaging. With Vasco, it's the jewelry that matters, not just the packaging. We will be happy to offer a premium price on your antique or second-hand jewelry collection even if you don't have the original packaging on hand.
2. Documentation is Good To Have
Buyers like to be clear about jewelry ownership and authenticity before they close the deal, especially when it comes to estate jewelry. When we buy estate jewelry in Orange County at Vasco, it's great if you have a certificate of authenticity, a purchase invoice, or other details on hand to prove provenance. 
There's a lot of counterfeit jewelry on the market today. That makes it important for estate jewelry sellers to be able to prove the authenticity of their pieces. At the same time, however, we recognize that it might just not be possible to find certificates or documentation every time. Many of the individual estate jewelry sellers we've worked with don't have documentation on hand. We're still happy to help. Fundamentally, when it comes to documentation, it's great to have but not critical.
3. A Single Appraisal by a Trusted Partner is Ideal
Hopping from agent to agent to get an idea about your jewelry's worth does more damage than good. Multiple appraisals give you a confusing picture of the market value of your antique collection. Sometimes, you are charged just for the appraisal. Also, it takes up a lot of time, meaning a longer wait before you get cash on hand. 
Orange County Jewelry Buyer 
A single appraisal from a trusted partner will save you time and effort. 
At Vasco Assets, we appraise antique and second-hand pieces of jewelry through a streamlined set of scientific processes. We leverage cutting-edge XRF technology and the expertise of senior appraisers with decades of experience to get you a solid, fair valuation at the earliest possible. We'll empower you to make informed decisions when selling your estate jewelry. 
Conclusion 
Partnering with the right buyer can make all the difference when selling antique or second-hand estate jewelry. If you're willing to wait for a  Vasco consignment sale, your chances of selling them at a price close to market value are higher. When you ensure that your estate jewelry is presented in the best possible condition and you have valid documentation to back it, you can secure a significant premium.
If you:
Need

estate jewelry buyers near you,

Are confused about

where to sell your antique jewelry

Want a fast, 24-hour expert appraisal

Want Premium rates for your jewelry from an Orange County jewelry buyer
Reach out to Vasco today for a professional appraisal. Our years of experience in jewelry appraisal and transparent communication will help you get the best price for your collection. 
---