July 20, 2021 0 Comments Business, Collateral Loans, Gold
How Vasco Assets Helped an Orange County Jewelry Store Stay Afloat and Retain Workers Through a Liquidation Plan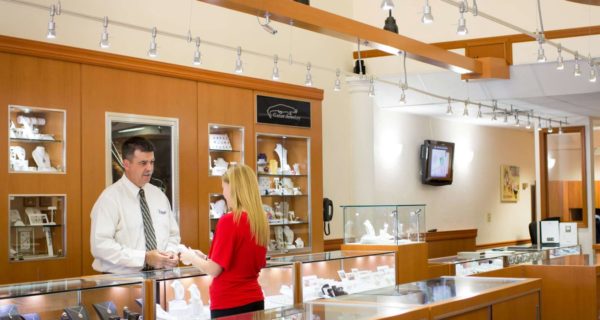 The coronavirus pandemic hit jewelry businesses hard. Just a few weeks into last year's lockdown, management at a number of Orange County stores were struggling to make ends meet. Despite reopening for business, sales were low: potential clients called off their weddings. Others couldn't afford higher-end engagement rings, and many chose not to spend on jewelry at all given the grim economic circumstances.
Salary and rent were due, overhead bills were mounting up. Many jewelers tried to secure bank loans. However, between long processing times and low approval rates, few actually got bank loans when they needed them. 
This is where Vasco came into the picture. A prominent Orange County jewelry store reached out to us last (April?), in need of $X to meet their working capital expenses and retain their workforce. 
We assessed their capital assets in detail and identified that they had enough jewelry on hand to stand in as collateral for a $150,000 bank loan. 
We offered them a hybrid solution: Vasco helped them liquidate some pieces that had been sitting unpurchased for a long time in inventory. We also offered them a collateral secured loan to secure more value for their stock. The interest rate was higher than a bank loan but considerably lower than their credit card payments. Our 24-hour turnaround time was also a crucial factor. This Vasco client got cash on hand when they needed it, allowing them to retain their workforce and keep their business afloat. By (May 2021?), they were back on their feet and sales were picking up again. 
Liquidity Challenges in the Jewelry Sector
Jewelry stores often sit on top of assets worth a considerable amount of money. However, black swan events like the lockdown can cause them to run into liquidity shortages, just like other businesses. Cashflow issues can be best addressed by liquidating a portion of the stock, permanently or temporarily. 
If your sales have been dim and you need to renew your stock to attract customers, the best way to collect funds is through jewelry liquidation sales. If you don't want to sell jewelry and give up part of your collection, you can still source funds through secured collateral loans. 
Vasco Can Help You With Just That
We help stores source funds on time through jewelry liquidation sales or secured collateral loans. Our mission is to assist potential organizations to overcome unforeseen financial challenges and stimulate their sales. We will help you get the most out of your inventory.
Why Does Jewelry Liquidation Matter?
Stock liquidation is a crucial decision. One that has to be taken after giving a lot of thought and consideration. If unplanned, it could even spell the end of your business. 
In a highly competitive industry like jewelry retail, strategic stock liquidation is one of the fastest ways to get back on track, with the cash you need. When you have surplus jewelry that's out of style or out of your clients' price ranges because of the economic downturn, jewelry liquidation sales will get you the cash to continue your operations. 
A well-planned liquidation strategy, after careful jewelry valuation, will help you get the cash you need to keep your jewelry business afloat in the long term. Let's take a look at some of the ways that Vasco can help you with this:
Liquidation Consulting 
Jewelry is a valuable asset. Beyond the melt price of gold and the carat value of gemstones,  design, craftsmanship, and rarity add considerable value to your jewelry stock. This makes it important to identify your immediate needs, to minimize losing out on your long-term assets: Liquidation is not an all-or-nothing decision. 
When you are in need of immediate funds, you could get a secured collateral loan or sell jewelry that has been sitting around for a while. Strategic jewelry valuation can go a long way in assessing which jewelry to sell so that liquidation doesn't affect your business.   
Vasco will work with you to identify your immediate needs and meet them, without liquidating too much of your stock.
Get the Best Price for Your Jewelry
In the event of emergency jewelry liquidation sales, store owners often fall prey to underpricing. Many times, you will be forced to sell your jewelry at rates that are a fraction of its real value. You need a trusted partner to help you get the optimal price for your stock. 
Vasco Assets has years of experience and expertise in the industry. We offer premium rates on jewelry after scientific valuation. Apart from the intrinsic worth of the jewelry, we also take external factors into consideration before pricing. This way, you are assured the best price for your stock. 
Use Your Jewelry Stock as Leverage 
Secured collateral loans are a great way to source funds in the jewelry business. If you have jewelry that is yet to find the right seller, don't let the liquidity crunch force you into selling them. Retain the ownership of the jewelry while you raise emergency funds on it. Your jewelry will stay with Vasco Assets for the time period, but it'll still be yours. Our interest rates on secured collateral loans are lower than credit cards and we guarantee you cash on hand, on time. 
Final Suggestions
Jewelry liquidation can make or break your business. You need an experienced and trusted partner to make the best of your stock liquidation. 
Whether you want to sell your jewelry in Orange County at a good price or leverage your jewelry for secured loans, Vasco offers a range of options to help you get through your liquidity crunch. We conduct scientific jewelry valuation, map out an intelligent sale/leverage offer, and then work closely with you to help you get back on your feet.
If you are concerned about:
Keeping your jewelry store afloat

Securing $100,000+ in financing to bridge your liquidity gap

Avoid 20%+ credit card interest 

Ensure continuity
Reach out to Vasco today. We'll help you get a fair price through jewelry liquidation or get you an emergency secured collateral loan. Let's get started!
---