August 10, 2021 0 Comments Collateral Loans
Case Study: How Vasco Helped An Orange County Jewelry Business Get Back On Its Feet After COVID With a Secure Collateral Loan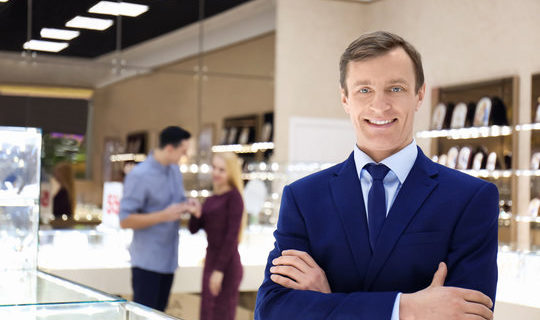 Even as the pandemic is slowly subsiding with vaccination campaigns in full swing, its repercussions persist in the economy. Since jewelry businesses have been operating on and off for the past few months due to lockdowns, they are now cash-strapped to the verge of closing down permanently. COVID-19 has left them scrambling for working capital loans. To make things worse, bank loans are harder to get than ever. Even if your loan is approved, it takes time to get cash in hand. This offers little to no help to jewelry stores as they need immediate money to keep their business up and running. 
How can you get an instant loan to meet the working capital requirements of a jewelry store?
Secured business loans are a great way to make it through the crisis. They are quick, hassle-free, and efficient. Let's take a look at how Vasco Assets helped an Orange County jewelry business in a time of crisis with an instant loan backed by jewelry stock.
Our client is a bridal jewelry store in Orange County, California. They have been doing business there for the last 30+ years and have a good reputation in and around Orange County. Their financial background is solid with capital assets worth more than a few hundred thousand dollars. However, they were forced to pull their shutters down more than 5 times in the last 15 months due to the on and off lockdowns. 
Although the town was fully opened up and a lockdown was not in sight, the store was unable to get back to business. We stepped in and assessed their situation. Our appraisers valued their stock to the nearest market value. We granted them a working capital loan of $XX, XXX backed by their jewelry assets. They reopened the store with all their staff to handle the impressive volume of walk-ins and, within X months, refinanced the working capital loan with a traditional bank. 
What are the post-COVID challenges facing jewelry stores?
After dealing with many jewelry stores in the past few months, we have learned that there are some common challenges faced by jewelry stores in the post-COVID era. Let's take a look at what these challenges are and how Vasco Assets helped stores tackle these challenges through instant loans.
1. Low revenue
The revenue of jewelry stores in the few months since the onset of the pandemic has been considerably lower than average. The situation was aggravated by the fact they are classified as a non-essential industry. Lockdown forced jewelry stores to shut down for weeks and cut down a major chunk of their revenue, even in wedding season. Since the lockdown was lifted, the walk-ins have been fewer than expected as potential customers were themselves financially in a pinch. The economy needed time to heal, pump money to individuals, and make a comeback. 
This essentially meant employees were unpaid, loans from suppliers were due, and overhead bills like rent, insurance, and utilities were mounting with little to no return. An instant loan will enable these businesses to compensate employees and get them back to work, pay suppliers and update stock, and pay for rent and utilities without any delay.
2. Competition from e-commerce stores
COVID-19 taught us the importance of the digitization of business activities more than ever. The pandemic-induced crisis has in fact accelerated the shift to digital. However, to what extent—especially in the context of jewelry stores?
In service-oriented businesses, it is easier to make the digital shift. They just need to coordinate their activities online. When it comes to jewelry stores, there are more challenges. Customers like to see the jewelry and assess how it would look on them before they make a purchase. They tend to have a lot of questions that need to be cleared—about the weight, making changes, stones, patterns, and designs. 
By successfully addressing these issues, e-commerce jewelry stores thrived in the pandemic period. They ran full-fledged ad campaigns on social media platforms, lured in customers to user-friendly interfaces, and answered their queries through 24*7 chatbot support.
It goes without saying that jewelry stores that enhance and expand their digital channels have a better scope of survival in the post-COVID era. They have to take their businesses digital, use advanced analytics to combine new sources of data, and keep pace with customers. This could happen through e-commerce stores or virtual shopping facilities. Something works the best for your store after taking into consideration the demographics, location, and feasibility of your target audience. 
Jewelry stores have to reimagine their business models as they get back on track to withstand competition. However, setting up and running a digital store parallel to a physical store demands a lot of money, time, and work, although it can yield great returns in the long run.
3. Shifting tastes
Online enterprises are now building brick and mortar stores themselves, giving jewelry stores a run for their money. Many owners admit that mom-and-pop jewelry outlets are no longer viable. One of the primary reasons for this is obviously the wide range of collections featured by big jewelry enterprises and their strategic marketing. 
Today you can look up jewelry in a particular design online and have it delivered to your doorstep in 2-3 days. However, when you walk into a jewelry store nearby, you select what they have to offer rather than what you want. Big-box retailers with substantially more buying power provide more varieties than mom-and-pop stores. 
How can small players ride this out to victory?
Through regular stock updates keeping in line with the rapidly shifting trends in the market and full-fledged marketing. However, stores need cash in hand to get started on this. 
How does Vasco Assets Empower You to Get Back to Business?
Businesses need cash to get back to business. We provide secured business loans—quick and hassle-free on your jewelry assets. 
When Rose & Co Diamonds approached us for a working capital loan, we examined their financial status in detail. We used a multi-step assessment strategy to get an accurate, scientific measure of the value of the jewelry assets and found that they had assets worth a lot of money. We offered them a secured business loan on some of the pieces that have been sitting idle for some time. Some were out of fashion at the moment, so we bought them because they were unlikely to be liquidated anytime soon through regular sales. 
The loan helped our client get started and stay afloat. Purchasing the "out-of-fashion" jewelry afterward gave them a nice cash flow boost right at the end of the payment period, too. 
Wrapping up
When you reopen your business, Vasco can get cash into your hands faster than a bank, when you need it. If you are looking for an instant loan, get in touch with us. We will draft a customized working capital loan backed by jewelry assets to suit your requirements. 
We empower you to recover from the financial torment inflicted by the pandemic and make a strong turnaround from surviving to thriving.
---