November 2, 2021 0 Comments Diamonds, Jewelry, Luxury
Vasco's Global Network: How to Get The Best Price When I Sell My Engagement Ring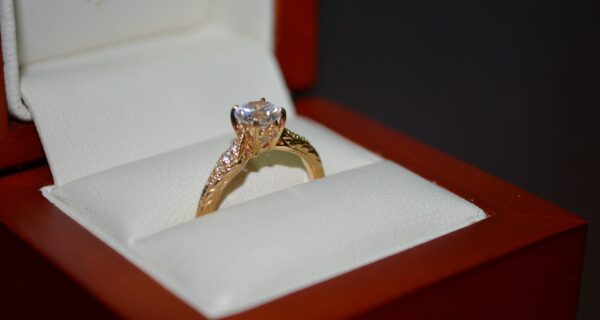 You may have spent a fortune on that engagement ring when you bought it. "Oh, it doesn't matter; it's for a lifetime," you may have told yourself. But then life happened, and now you are forced to sell it, for whatever reason. 
The resale value of engagement rings is usually disappointing. It is almost always less than the retail price, unless you are ready to wait for a few decades for the value of gold and diamonds to increase. The coating has eroded, the band has scratches—it's down to half its value. Don't have the invoice—it's no longer branded. Don't have a GIA or IGI certificate — the value becomes less clear.
In an emergency, you have little choice but to take the pawn shop's word for it. Especially if you are in a small town where there aren't many second-hand jewelry shops or a city where there is a second-hand jewelry store in every nook and corner and the market is saturated with potential buyers. So you walk away with whatever they promise to give you.
This doesn't have to be the case, though. 
Here are some actionable tips to help you get a fair price when selling your engagement ring. You can apply these when you want to sell diamonds and precious stones too. 
1. Look Beyond Your Local Market
As we discussed above, the price of diamond jewelry or precious stones heavily depends on the supply and demand in the local market. For example, if you are from a small town, it may not be viable for local jewelers to purchase your diamond engagement ring for a hefty sum; their market is small. Moreover, they need to cut profit and expenses from the sale price before giving you a final offer. 
On the other hand, when they sell a piece of new jewelry, the case is entirely different. They may have procured it from a wholesaler or on consignment at a much lower price than what your original cost was, so it's hard for them to give you an attractive price. In short, while you spent more than what the diamond is really worth when buying, you get less than what it is worth when selling. This is how jewelry buyers make a profit.
Another option is pawnshops. We wouldn't recommend giving up your engagement ring to a pawnbroker, though. The reason is obvious. They sell second-hand jewelry at a price much lower than the actual value, not just because they don't have a fancy shop or fancy salesmen, but also because their target market is from less affluent backgrounds. They can't afford to pay a hefty sum for engagement rings, diamond jewelry, or precious stones. Moreover, pawnshop owners are usually not skilled appraisers – they need to lowball the offer to ensure that they make a profit.
So, what is your best bet?
Explore a market beyond your neighborhood. Even though the shops in your area give you disappointing quotes, you could get a worthy and fair price in other markets. 
2. Get a Scientific Appraisal Before You Sell Engagement Rings 
A scientific appraisal will give you a more accurate value of your engagement ring. This is calculated after breaking down each aspect. For example, the band, the stones, the brand, and more. Professional appraisers and gemologists are trained in the art and science of jewelry value assessments. They consider a range of factors when evaluating an engagement ring's value. 
Some prime factors are the quality and carat weight of the band, as well as the center stone and precious stones attached to it. For example, the value of a diamond can vary depending on the cut quality, clarity, color, and carat weight. There is a range of colored diamonds that fetch different prices. If you have a well-cut round diamond with a flawless grading, you are likely to bag a worthy price.
The value of the precious metals used for the ring has to be appraised based on the material. Usually, engagement rings are made from gold, platinum, silver, rhodium, or palladium. For better malleability and durability, nickel and copper act as the base in a small percentage. So the actual proportion of precious metal in the ring can vary. In gold these are represented in the Karat system including the stamps you may recognize 10k 14k and 18k.
There are secondary factors that go into the valuation too. These include the brand value, the certificate of authenticity, design value, and, if it's an antique piece, the rarity of the ring and stones. This essentially means that, if you have a luxury engagement ring from Tiffany & Co or DeBeers or Cartier and a certificate of authenticity to prove its provenance, the valuation will be on the higher side.
Other crucial secondary factors are markup and labor. We know that design and fine finish add value to a piece of jewelry. It is not just an accessory, but also a work of art. 
3. Online Market 
Today, many platforms give you an estimated global market value of an engagement ring online. You can also put your jewelry up for sale on auction houses or auction sites with a reserve price. Craigslist also works. However, it may take a lot of time to reach the right buyer.
Since they host buyers and sellers from around the world, the prices in online markets are credible. If you have some reservations about online jewelry stores or appraisers, it is okay. We know how the internet is riddled with scams, hassles, and frauds. Engagement rings are worth a lot of money. So it is not wise to send your jewelry for appraisal before you learn about the company in depth. Ask yourself these questions; 
Is this company real? Reviewing their website, social media pages, and Google reviews will give you an idea. If you have friends and family living in that area, you can call them up and ask. Make sure there aren't a lot of

middlemen

involved in their dealings. 

Do they have a safe shipping process? Since jewelry is delicate, it is easy to damage or lose it during transit. Make sure their shipping process is authentic and secure. 

Do they offer free insurance? For the same reason as above, it is important to insure jewelry before sending it for appraisal. 

And finally, can I turn down the offer if I am not happy with the

sale price

? If the

final offer

doesn't sound good to you or you came across a better one, you should always have the option to retrieve the jewelry back. 
Wrapping up 
Answering these questions, we introduce to you Vasco Assets, a leading jewelry appraiser and buyer based in Orange County. We have outlets and offices around the world including Europe, Hong Kong, and India. The arbitrage helps us get you the right market and the best value for your engagement ring and precious stones. 
Moreover, Vasco offers safe and secure shipping in partnership with leading companies like Brinks Global, Malka-Amit, and FedEx. Your jewelry is safe with us. Unhappy with the final offer? We will ship it back to you with insurance. 
So the next time you want to sell an engagement ring, think beyond local jewelry stores and pawnbrokers. Tapping into a wide network of clientele across the world, we will give you a fair price for your jewelry.
---