October 27, 2021 0 Comments Cars, Luxury, Title Loans
How Nick Used a Luxury Car Loan to Secure and Grow His Business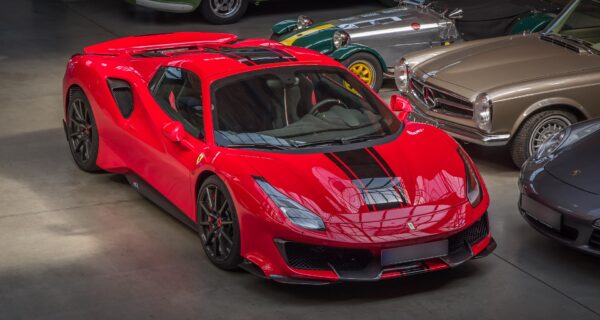 Nick is the CEO of a software firm based in California. His business had been running smoothly. That was until the pandemic hit. The monthly revenue started declining and he was on the verge of letting off a few employees. However, during a meeting, his partner suggested that they should instead look for opportunities. Confined to their houses in fear of life, people had little to no means to go out, meet up, or have fun. So Nick and his team mapped out a plan to create a social networking site where people can host debates. A hub where they can debate on relevant issues, vent their pent-up energies, share their views and earn rewards.
They will have to outsource a few tasks to an external agency to get some processes done. However, they were short of money. That was when Nick learned about Vasco's luxury car loans. In this article, you will find out how we helped him leverage his dream car at a low LTV to kickstart his new project and earn a 400 percent return on investment. 
What is a Luxury Car Loan?
A luxury car loan is a car financing option, also known as a car title loan. It is a secured auto loan where the vehicle title acts as the collateral. Unlike what the name may have got you thinking, it is not exclusively for luxury cars. All luxury vehicles come under it. Here, the borrower allows the lender to place a lien on his car title. . The hard copy of the vehicle title will be with the lender during the loan term. The car also stays with the creditor.  Once the full amount is paid including the charges, taxes, and interest, the lien will be removed. The title and the car are returned to the rightful owner as well. 
However, if the borrower fails to make the monthly payments on time, the lender can confiscate the luxury vehicle as per the conditions laid out in the loan agreement. He has the right to sell and get his money back. The allure of title loans is magnified by the relatively easier application process. They are usually short-term. So, the interest is higher when compared to other credit sources. 
Lenders are not really concerned about the financial background or position of the borrower as long as he has a vehicle that covers more than the loan amount. Instead of credit score and financial assets, they check the condition of the vehicle. Despite being secured, the higher rates of interest charged on the loans have landed many in further debts. Many are also forced to give up their exotic cars when they find it impossible to make their repayments on time. In traditional circumstances, title loans are not recommended unless you have an emergency. 
Title loans on luxury cars take little to no time for processing owing to the same reason. However, you don't have to run the risk of losing your dream car when getting an exotic car loan. 
Why are Vasco Luxury Car Loans Ideal to Meet Immediate Needs?
1. Flexible Interest Rates
As we discussed above, title loans have high interest rates when compared to credit cards or public bank loans, or personal loans. However, at Vasco, we charge reasonable interest for all financing options. Since the loans are collateralized, there is no need to push borrowers into further debts through interest rates that they cannot afford to pay.
There is a good amount of flexibility here – interest rates can scale on the LTV (loan-to-value ratio), with lower (and concurrently lower-risk) loans having more favorable interest terms. Interest rates also vary depending on how sellable that car is. 
2. Hassle-free Paperwork
Paperwork and documentation can be a dreary process. When you are in a financial crisis, the last thing you want to do is to go to government offices to fill out, submit, edit, and re-submit all the required papers. This is where a luxury car loan from Vasco can save you money and time. Our car title loans have a diligent yet time-effective vetting process. We don't delve into your financial background or credit history. The application process is kept absolutely simple without a lot of disclosures. 
3. Flexible Terms
Maybe you have a high-end luxury car, but the amount you need is low. Maybe you have some money coming in a few weeks, you want to cut down the loan term. Each borrower's needs vary. We have designed our luxury car loans to vary with your requirements. The choice to determine the terms of the loan as per your convenience remains with you. You can close the loan amount in easy monthly payments. 
4. Low Turnaround Time
In a world where time is money, we believe in giving people money when they need it. Especially for business ventures. This would help them get started on their projects without any delay and cut down extra costs. If the project gets up and running as planned, the repayments will progress without any hiccups. Because of our minimal vetting process, we can get you cash on hand within 48 hours of applying.
How Vasco Empowered Nick to Seize a Business Opportunity
Nick needed $35,800 if he were to get started on the new project. He approached us for a luxury car loan so that he didn't have to sell his dream car. It was a new car, a Porsche worth around —-. Standing in as collateral, it could easily get $70,000. However, Nick's needs were much lower. Even if he fuels the Porsche for another project, that would cost him the interest. So he decided to go ahead with 50 percent LTV (loan-to-value ratio). This meant lower interest and lower charges. 
He was concerned about the vetting process and how long it would take, as he had already paid the advance for new hardware. The package would arrive in 2-3 days, he had to source money before that. Once the appraisal of the car is done, all we needed to do was to examine the title. We took a copy of his ID card, driving license, and insurance certificate. That was it. Within 48 hours of applying for the loan, the money was transferred to him. 
He paid back the title loan in a little over a month and generated a 400 percent return on his initial investment. 
Wrapping Up
Vasco Assets is a financial services provider and one of the pioneers in luxury asset lending in California. 
If you have an urgent cash requirement, turn your luxury car into a valuable source of money with Vasco. We offer fast, easy, and flexible luxury car loans on luxury cars, classic cars, sports cars, and collector cars at fair interest rates. Whether you have a Ferrari, Porsche, Aston Martin, Rolls-Royce, Audi, BMW, Maserati, Mclaren, Mercedes Benz, Toyota, SUVs, Lamborghini, or other luxury cars, leveraging an international network of clients, we can get you cash when you need it.
---