December 28, 2021 0 Comments Diamonds, Jewelry, Luxury
Diamond Resale Value: How Vasco Delivers an Optimal Price for Your Diamond Ring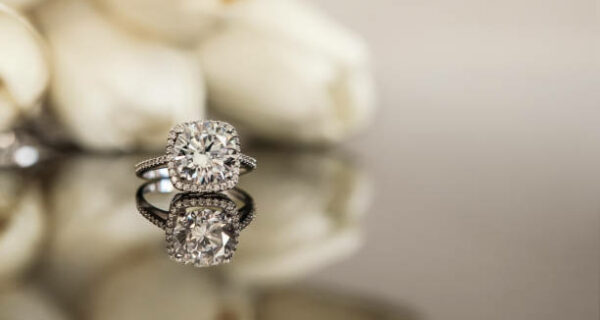 Diamond engagement rings are a staple of any wedding and are generally a great conversation starter. However, as with all things jewelry related, a ring may lose its shine or may not mean as much to you as it did before. What must you do, should you choose to part ways with the ring of yours?
Are diamonds forever?
We've all heard this tagline before. Although true, since diamonds are difficult to physically harm, they may suffer devaluation. It is all too common for diamond jewelry owners to feel that the gems they possess don't have the oomph factor that they once had, and, to be fair, jewelry can become dated pretty fast. Jewelers can do their best to make something timeless, but timelessness only lasts until the wearer decides that it's time, and that time comes in a few decades, if not years. Once the jewelry loses its shine, it becomes a pricey paperweight.  Whether or not diamonds are in fashion at this particular point of time, in a particular location, is another factor that determines value. And unfortunately, there's nothing you can do about that as a diamond owner.
Get Out of the Loop!
You don't need to keep that old jewelry that you don't like. What's the point if you don't wear it as frequently as you would like to? Saving it simply because it has gemstones or a perceived value is simply wasting an opportunity. What kind of opportunity? Well, for starters, you can sell your jewelry and simply buy some more that's new and trendier!
Selling Diamonds: What Do You Need to Know?
Diamonds are the hardest naturally-occurring substances known to humans. If you were to keep your sapphire glass watch in your pocket along with some loose diamonds, you will find the sapphire glass covered in scratches—that's how hard diamonds are. Combining this fact with the astonishing beauty that diamonds add to a piece of jewelry, and how difficult it is to mine jewelry grade diamonds, it's easy to see why diamonds are so exorbitantly priced. In the end, it's all justified. Diamonds are beautiful, and tremendous skill and time go into transforming them from rough crystals into the pieces of art that they become. 
Diamonds, just like all other precious stones, are measured in carats. Typically, for a similar grade of purity, a piece of diamond is valued based on its carat weight. The purest diamonds are colorless, and often the priciest. As the impurities get in, they turn into colored diamonds, which may have a higher retail price if the color is vibrant enough, but have similar physical properties. This retail price also depends on the color the diamonds are. The rarer red and green diamonds have a retail price much higher than colorless diamonds, while colors such as brown tend to be priced similar to or lower than colorless diamonds. Another factor that determines the price of diamonds is the way they are cut. Cut diamonds sell for much higher prices and the prices go up as the intricacies of the cuts increase. 
Of course, the prices of diamonds are not decided on a whim. The purity of these diamonds is determined by institutions like the Gemological Institute of America (GIA), and purity determines the price. Diamond prices are the amalgamation of all the prices, vis-a-vis the wholesale price, the labor cost of cutting plus the markup charged by the jeweler.
This is helpful when you want to buy new diamond jewelry. But what happens if you wish to sell old jewelry? Things get a little different. If you want to sell diamonds, you have to reach out to one of the many diamond buyers spread throughout the U.S. These diamond buyers will determine the grade of the diamond in your jewelry, and will often provide a diamond grading certificate. Diamond grading is essential to knowing the resale value of a diamond. The grade, along with the carat weight, determines the diamond's worth. 
Reselling diamonds can be tricky, as the resale value of your diamond depends on the grading report, the inclusions or impurities in the diamond, and the precision and intricacies of the cuts. You may well sell your diamonds in a pawn shop, however,  because determining the resale price is so complicated, it is best to sell your diamond jewelry to a diamond buyer or a reputable jewelry store. They will often offer you the best market value for your possessions and give the best prices that are closer to the true value of the diamond. 
An important thing to keep in mind while trying to sell diamonds is to make sure that you're reselling natural diamonds. No matter the market price for artificial or lab-grown diamonds, they will not fetch a resale price. GIA Certified diamonds will fetch a higher resale price. The place where you got your diamond also matters. If you purchased your diamonds from Tiffany or Harry Winston, you can be sure that you were sold high-quality diamonds which will enable them to be sold in a resale market. 
Confusing? We've Got You Covered!
Navigating the diamond market can be difficult, even for a seasoned veteran. Diamonds are non-homogeneous, and, unlike gold, their prices aren't fixed or mandated. This makes it difficult for diamond buyers to set a resale price and for sellers to figure out whether they're getting their worth or getting ripped off. All things considered, selling your old diamonds, either as loose diamonds or as jewelry, is one of the easiest ways to liquidate some of your assets and get rid of your dated jewelry. Certifications like GIA and IGI help in the valuation of your diamonds, and seasoned diamond buyers will look for impurities and unevenness in the diamond through their expert eyes and will offer you a purchase price after including their service charges. 
Vasco Assets, The Final Stop to Your Diamond Woes!
At Vasco, we are determined to give you the best resale price for your prized possessions. We understand that the diamonds meant the world to you, and no matter whatever the reason, we will give you the best price compared to any other retail jeweler. In the end, what matters to us is your satisfaction as our esteemed customer and the belief that we provide the best to our clients in all aspects. We have the best diamond experts working with us who provide the most comprehensive analysis of the resale value so that you have the peace of mind that your diamonds are in capable hands and that you're getting your diamond's worth. Come visit us in Orange County, CA to get the best deals on your diamonds!
---