February 1, 2017 0 Comments Diamonds, Watches
Learn How to Evaluate Your Watch Like a Professional!
Do you own a fine luxury watch? Omega, Patek Philippe, Rolex, Chopard, and Cartier are some of the finest luxury quality investment watches that could hold a value exceeding $2,500.
When trying to evaluate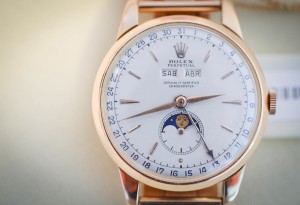 how much your luxury watch is worth, there are some key elements that you need to consider including:
The Brand and Model of the Luxury Watch: Brand and model play a major role in how valuable your watch would be.  Different brands have differing financial rates. Such rates depend on two factors: the features of the watch, such as strap type/material and its market worth. Keep in mind though that in addition to the brand, the model of your luxury watch also influences its value.
The General and Working Condition of the Luxury Watch: Is your watch in pristine, excellent, very good, good or poor condition? Factors such as wear and tear, cosmetic appearance, and mechanical working status affect how valuable your watch is. Dents, scratches, and restorations will decrease the value of your watch.
The After Market Status of The Luxury Watch: Changes applied to your watch after purchase will also influence its value. Consider the following questions: What has been done to the watch after the original purchase? Did you add any diamonds to it? Did you change its strap? Did you modify the face of the watch?
The Ownership of the Luxury Watch: Any additional information you have about your item can also help your appraiser provide you with the best value. Consider forms such as a certificate, statement from the original owner, serial number, original box, and papers.
At Vasco Assets, we make it easy for you to evaluate your luxury watch as a professional. With our online appraisal form, we provide you access to a free and quick valuation process, taking all the hassle out of selling your watch online. Click HERE to fill out the form and see how easy it is to evaluate your luxury watch like a Pro or feel free to give us a call at 800-688-2994 to speak to one of our luxury watch appraisal experts today.
---