November 30, 2022 0 Comments Collateral Loans, Luxury, Luxury Asset Loan, Luxury Line of Credit
Financing Your Real Estate Purchase: How LuxLoc Secured Line of Credit Can Act As A Bridge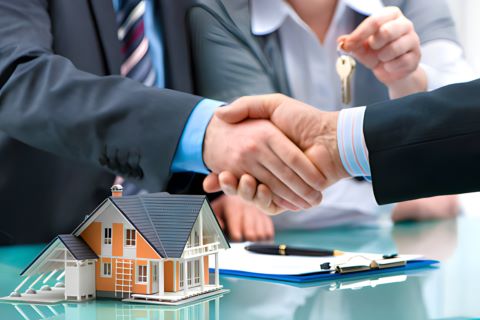 Jeff had a strong feeling about the new opportunity. As a veteran business owner serving the hospitality sector in Los Angeles, he was convinced he would do well running a restaurant. The opportunity lay in the form of a cloud kitchen whose owner wanted to sell it off due to personal reasons. And because he knew Jeff well, he offered him the deal.
Jeff looked at his options. He had to get a real estate loan. He approached his bank and a couple of private lenders. But he wasn't happy with the loan terms and deals he was being offered from real estate lending firms – credit score, high rates of interest, and difficult repayment terms. He wondered if there was another way to fund his dream. And that is when he heard about Vasco's LuxLoc from a friend.  
LuxLoc: An Innovative Product from Vasco
LuxLoc is an innovative financial product designed by Vasco, a multinational luxury conglomerate that had been helping individuals leverage the value of their luxury assets. And LuxLoc was another such product in the line of financial products that focused on financing via luxury assets.  
LuxLoc is a type of secured line of credit. And the best part is that it is secured by a luxury asset that you own. You can put up any luxury asset as security collateral – art, coins, diamonds, jewelry, luxury vehicles, watches, yachts, aircraft, and many more.  
You can obtain flexible cash through a line of credit to pay off debt, finish a home improvement project, and more. You can draw from the credit line as much or as little as you need, and you will only be charged interest on the amount you use. You can also use it as a bridge loan or a short-term loan between two financing opportunities.
What is a Secured Line of Credit?
A secured line of credit is a type of loan you get by putting up as collateral an asset that you own. A HELOC is a traditional secured line of credit for homebuyers, where you are eligible for a loan amount depending upon the current equity of your home. A home loan is a type of secured loan (or mortgage loan since it is backed by the asset (the home, in this case).
The asset that you intend to put up as collateral is valued by the lender. They will then offer you a credit limit, the maximum amount you can draw. Like a credit card (which, by the way, is an unsecured line of credit), your secured line of credit will have a credit limit, or the most you are permitted to borrow at once. Now, you will have access to flexible funds (up to your credit limit) that you can borrow as much as you need with a secured line of credit. The best part is that you will have to pay interest on only the amount you draw and use, and not the entire credit limit. You can access funds up to your credit limit almost indefinitely, as long as you keep paying the amount you have drawn regularly.  
Lines of credit typically include two phases: a withdrawal phase and a repayment phase. During the draw time, you are permitted to borrow money and repay it monthly with interest only. You are not allowed to obtain loans after you start the repayment period. You'll pay back the loan during the repayment phase by making principal and interest installments over a predetermined time frame.
The word "secured" denotes the presence of a loan-securing asset, also referred to as collateral. If you don't pay back the line of credit, the lender has something valuable to take as collateral, such as your house or a piece of property owned by your company. Secured lines of credit can be used with a variety of credit histories (in many cases, your lender won't require this) because the asset that serves as security for the loan helps to lower the lender's risk.
The Key Advantages of a Secured Line of Credit Are –
You are usually able to get a

higher LTV

(

loan-to-value

ratio) and hence a bigger credit line than an unsecured

line of credit

Interest rates are often lower

. The

lower rate

is due to the fact that the loan is secured by an asset.

It is

easy to get for those with poor credit scores

, or without a credit history; the only

eligibility

is to possess an asset that can be pledged as collateral.

You

pay interest on only the money you draw

and use, not on the entire amount

You get

access to money regularly

, as you want and as much you want (up to the credit limit)
Common Forms of Secured Credit Lines
There are two types of secured lines of credit – personal and business.
Personal Credit Line
A person can get money for their personal expenses through personal lines of credit. For instance, a homeowner can use a home equity line of credit (HELOC), a popular personal line of credit, for home upgrades, debt consolidation, and other purposes. Your home's equity, which is the worth of your home less any mortgages or loans against it, determines how much cash you can access through a HELOC.
Your home serves as security for a HELOC, allowing the lender to foreclose if you are unable to make your payments. The majority of lenders cap HELOC borrowings at a predetermined portion of the home's appraised value. The total appraised value of the home is divided by the sum of all mortgages and HELOC borrowings to arrive at the total loan to value.
Business Credit Line
Like individuals, businesses occasionally require flexible funds to make improvements to their facilities, pay overhead expenditures, deal with unforeseen costs, buy more real estate, and many other things. Lines of credit are a type of business loan that can be used by businesses to assist in paying for these costs.
During sluggish economic times, businesses can use these lines of credit to supplement their cash flow or cover working capital needs without incurring interest charges.
A business line of credit needs collateral, much like a HELOC. Buildings, machinery, automobiles, accounts receivable, and other assets with high value can be pledged as collateral by business owners.
How LuxLoc Helped Finance a Real Estate Purchase
Jeff reached out to Vasco to know more about LuxLoc. He was thrilled with what he heard. There was a financial product that fit perfectly in his scheme of things. He did not have to put up his valuable business assets or home as collateral, nor did he have to put up with the difficult terms of a commercial real estate loan or a business line of credit.
Jeff realized that he had in his possession quite a few items that could be termed luxury assets. Being a car lover, he had a 2016 Mercedes E-Class in pristine condition that he had bought a few years ago, among the other vehicles that he and his wife drove. He also had a Rolex, some gold coins he had collected over the years. Plus there was always the jewelry they had bought during special occasions.
Jeff got most of them valued at Vasco. We offer free verbal appraisal for your qualified luxury items. Even though you may decide not to go any further, you still walk away with some great insights into the value of your luxury items.
After getting comprehensive valuation reports on his luxury assets, Jeff decided to put up his E-Class as collateral for LuxLoc. We offered him a high LTV and a competitive interest rate, considering his financial standing and his future business plans. He chose a 12-month term since he was confident he would be able to pay the loan amount back by that time. The monthly payments were also well within his comfort zone.
For LuxLoc, we charge minimal fees all of which are mentioned beforehand. We do not charge origination fees and our appraisal is free of cost. We do not need your credit score and there is no need to report the deal to the Credit Bureau or Credit Union. So your credit history is intact.
Once Jeff was onboard with the deal we had offered him, he proceeded with signing the documents. Within 72 hours, the first tranche of the loan amount was in his account.
Parting Thoughts
Vasco Assets has been helping individuals realize their dreams and tide over difficult financial situations by unlocking the value of their luxury items. By designing novel financial products to finance personal and business endeavors like taking that long-pending vacation, financing higher education, real estate investment (like a commercial property), expanding or diversifying a small business, funding your retirement, or helping with much-needed cash flow, Vasco has helped thousands of customers with a variety of financing options and customized loan programs.
LuxLoc is another well-thought-off product from Vasco that integrates the flexibility of a line of credit with the security of a luxury asset. If you are wondering about how to get a commercial loan for real estate, look no further than LuxLoc.
To know more about LuxLoc, visit us at 2024, Quail Street, Newport Beach, CA 92660, call us at 949.610.7774/800.688.2994, or write to us at info@vascoassets.com.
---