July 18, 2022 0 Comments Collateral Loans, Gold, Jewelry, Luxury, Luxury Asset Loan
How does a Gold IRA work? Cashing Out To Fund Retirement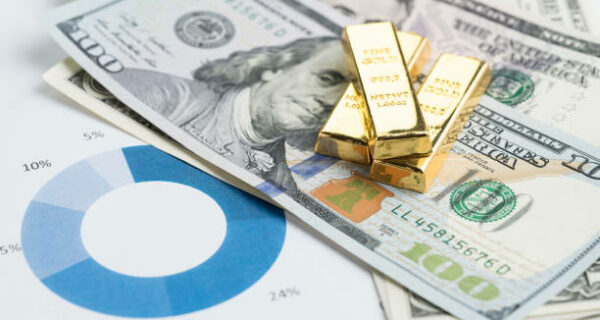 Among the various reasons to invest or save, retirement is a component of consideration from an early age. Around 75% of Americans believe that they aren't saving enough for their retirement. However, making a clever retirement move is vital to enjoying the sunsets of our lives. One way to achieve this is to create a well-diversified retirement portfolio, through a self-directed individual retirement account (IRA) and add gold investments to it. So how does a gold IRA work? Let us explain how investing in a gold IRA has pros and cons that will help you feel more comfortable with your retirement savings strategy.
How Does a Gold IRA Work?
Most financial experts advise using a carefully designed retirement strategy that is diversified to add different assets to protect the portfolio from market volatility and economic downturns. Investing a portion of your funds in physical gold or other precious metals is a wise retirement strategy. An IRA is a great way to save for retirement. But instead of a traditional IRA (like a Roth IRA) that invests the bulk of your money in traditional instruments like stocks, bonds, and mutual funds, a self-directed gold IRA is a retirement plan that can help you buy gold and other precious metals along with other assets like real estate and even cryptocurrencies. An IRA gold investment will strengthen your portfolio with lower-risk options to balance your higher-risk investments.
A gold IRA is an IRS-certified account. Such an account extends your investment range from gold bullion (including gold bars, and coins) to other IRS-approved metals like silver, palladium and platinum. While it is similar to a traditional IRA in most ways, you can direct the investments in your gold IRA account and you may also experience an added tax reporting and recording with it.
Once you reach the retirement age (59.5 years), you can opt to withdraw your funds in a variety of ways – complete withdrawal, regular part withdrawal, in-kind distribution, or cash withdrawal. The withdrawal is taxed, unlike in a Roth IRA where all withdrawals are tax-free. These differences will require you to get a solid understanding of gold IRA pros and cons before you transfer your IRA to gold. The more you know, the easier it will be to decide where to invest your funds.
Can I Take Physical Possession of Gold in My IRA? 
You can take physical possession of your gold only after your retirement. 
In the case of a gold IRA, while you can invest your money in gold and other approved precious metals, you cannot hold them physically while your account is functional. It has to be held by a depository. 
So while you can direct your IRA custodian to buy the precious metals for you from an approved dealer, the precious metal items will need to be held in storage by an approved depository. When the account matures, you may either decide to take physical possession of your gold or you may sell the gold to your custodian and take cash into your account. Gold IRA investing is a long-term solution to protect your retirement savings interests. Purchasing your IRA in gold will guarantee a better payout, but you won't be able to use it until you reach retirement age.    
The Basics of Opening a Gold IRA Account
Once you decide that gold investment is for you and it best suits your retirement plan, knowing where to start is crucial. If you are sure about holding the gold and managing the account yourself, as noted earlier, a self-directed IRA can be a sensible choice. It is because self-directed IRAs offer flexibility in the asset variety you wish to invest. Such accounts get held by a custodian. They can be banks or any IRS-approved financial institution. Following this, you can fund the account via the IRA custodian in several ways. Since your preference may vary, here is the list of available options:
IRA transfer: If you already own another IRA account, you can transfer part of the funds to your self-directed gold IRA. You cannot shift your gold or other metals that you might be holding into your gold IRA account. You will have to liquidate them and send the cash to your custodian to fund your account if you want to transfer your IRA to gold.
Cash contribution: Alternatively, you can transfer funds via your custodian to the account through a check/wire.
Rollover: If you have an existing approved retirement plan, IRA rollover allows you to transfer funds directly to your new gold IRA.
Next, you will have to choose a precious metal dealer after running several rounds of quality checks with them. However, you must choose what metals to buy before deciding on the dealer. For this consideration, remember that there are only specific forms of gold that you can own in your gold IRA. According to IRS, you can own metals like Gold, Silver, Platinum, and Palladium. The gold needs to have 99.5% purity and fineness. So you cannot buy any collectibles into your gold IRA. However, American Eagle gold coins are an exception. Talking to a financial planner about the best gold IRAs will help you make the best decision to diversify and protect your portfolio.
Once you have funded your precious metal IRA, you can direct the custodian to transfer funds to the precious metal dealer and buy the items of your preference. Finally, you have to select a depository. The Delaware depository is an example of an IRS-approved depository that stores precious metal assets because you cannot store them by yourself. As already mentioned, you have all the liberty to withdraw and take physical possession of the gold in your IRA after the prescribed retirement age without penalty.
How Much Does It Cost to Set Up a Gold IRA? 
Apart from deciding to own gold, you will need several requirements to kickstart your gold IRA account. It does cost to start your gold IRA which primarily includes the cost of the set-up and storage facility fees (usually charged annually) charged by the depository. However, the expense may also include management fees from the custodian. The administrative fees depend upon factors like your account size and vary with different custodians. On average, the cost ranges between $350 and $450. You will also need to pay for the insurance of your physical assets. You must evaluate all the gold IRA pros and cons, including the costs, to determine whether this is a good investment strategy to fund your retirement.
What Are the Pros and Cons of a Gold IRA?
Since we are talking about an extremely important phase of your life – retirement – every step needs to be well analyzed, with the pros and cons weighed aptly. 
Let's start with the brighter side, discussing reasons why investing in gold bullion is beneficial –
Investing in physical gold is a safer bet. Unlike other assets and stocks, the price of gold remains stable for a consistent period and does not show the kind of volatility seen with other assets. Thus, it works as a hedge as they are insured against inflation and deflation waves.
Gold IRA investments suggest a practical portfolio diversification. When paper assets like currencies fall and the stock markets crash, you can always lay back and relax.
Unlike the common misconception, gold and silver IRAs allow greater control to the owner. With that said, you have maximum degree of control over your investments and being able to physically possess the asset.
Adding gold and silver coins to your investment portfolio means investing in high-profit-yielding assets. Considering the past performances of the metal, financial advisors anticipate not just a good return but security as well with gold investments.
On the other side, you may find the following intricacies –
Since you cannot deposit the gold in your new IRA yourself before the retirement age, gold IRAs demand higher fees usually including the expense of the storage in an approved depository.
Gold bullion in a gold IRA does not get compounded or earn any interest, unlike your regular IRA.
Is a Gold IRA Right for You?
In today's uncertain economic landscape, many investors are turning to alternative assets to protect their retirement savings. The Gold IRA allows individuals to hold physical precious metals in a tax-advantaged retirement account. However, determining if a Gold IRA is right for you requires careful consideration and understanding of your financial goals and risk tolerance.
First and foremost, assess your investment objectives. Are you seeking to diversify your retirement portfolio and hedge against inflation and economic volatility? Gold has historically been considered a safe-haven asset, often retaining its value during economic downturns. If you believe in the long-term value of gold and its potential to serve as a store of wealth, a Gold IRA might align with your investment goals.
Next, evaluate your risk tolerance. While gold can offer stability, it is not immune to short-term fluctuations. Various factors, including geopolitical events and changes in interest rates, can influence the price of gold. If you are a risk-averse investor prioritizing capital preservation over aggressive growth, a Gold IRA could be a suitable addition to your retirement strategy.
An essential aspect to weigh is the percentage of gold exposure you intend to have within your overall retirement portfolio. Financial experts often recommend that precious metals should make up a portion of your diversified holdings, typically ranging from 5% to 15% of your total retirement assets.
Lastly, review your investment timeline. If you are nearing retirement and have limited time to recover from potential market downturns, a Gold IRA can provide stability during your golden years.
Cashing Out My Gold IRA to Fund Retirement
Gold IRAs give you the freedom to direct your investments to include assets that appreciate steadily without being overly concerned about market volatility. Gold and other physical precious metals have, over the years, given consistent returns and it is prudent to add them to your investment mix.
With a gold IRA, you also have another benefit up your sleeve. When the account matures and you decide on the best mode of withdrawal, you can choose to get an in-kind distribution. This means that you may ask your custodian to direct the depository to send the precious metals to your address. Once you have the precious metals in your possession, you can choose to sell them outright.
Here you can choose to approach a luxury asset buyer like Vasco Assets. are a multinational luxury conglomerate that deals exclusively in high-end luxury items, including gold and other precious metals. With a large network of industrial and accredited buyers around the world, they can give you the best deal in town and you can walk away with money within a day.
With the money in hand, you can easily add to your retirement savings while being assured in the knowledge that your gold investments got the best deal. 
If you're considering investing in a gold IRA as part of your investment portfolio, it's vital to evaluate your options and determine what type of investments will work best to achieve your retirement goals. Our experienced team can help you find the best gold IRAS to ensure you make a good IRA gold investment that will pay off in the long term. Contact us to learn why gold IRA investing is a smart decision.
To know more about how you can sell to Vasco Assets,  you may visit us at 2024 Quail Street, Newport Beach, CA 92660, call us at 949.679.2300/800.688.2994, or write to us at info@vascoassets.com.
---