July 19, 2022 0 Comments Collateral Loans, Diamonds, Jewelry, Luxury, Luxury Asset Loan, Sell Your Luxury Asset
Selling Jewelry To Fund Retirement: How Much Are My Diamonds Worth?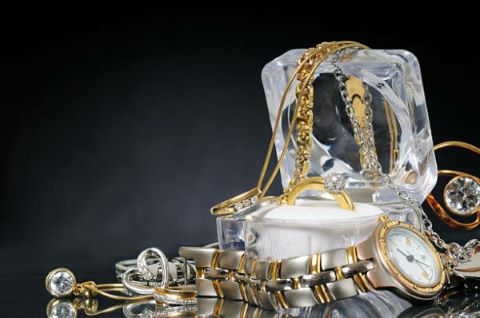 Retirement brings with it a sense of freedom – both mentally and physically. The feeling that you can now enjoy the sunset of your life at your own pace can be a liberating experience. Most of us have some kind of retirement plan in place that we can withdraw from when we retire. However, not all Americans have a retirement plan or the funds may not be sufficient to maintain the kind of lifestyle you want when you retire. This is why some people may find funding their retirements a challenge. But if you have luxury assets like jewelry or diamonds, you can leverage their value to seamlessly cash them out and be financially independent.
Leverage the Value of Your Luxury Assets
During their heydays, most people often collect luxury items or they might inherit some – paintings, sculptures, jewelry, precious stones and metals, exotic cars and bikes, yachts, and so on. But we usually look at them as collectibles with no inherent value apart from the functions they serve, if any. So while you'll take a car, bike, or a yacht for a spin every now and then, the other collectibles often simply occupy space. Many inherited luxury assets simply occupy space and offer nothing more than emotional value.
However, you must realize that these luxury assets have a huge market. These are valuable assets that can be used as security collateral to get a loan or can simply be sold outright. The money you receive can then be used to fund your business, tide over difficult financial conditions, for certain personal expenses, or even for funding your retirement!
How Much Are My Diamonds Worth?
If you have bought the diamonds – a ring, or a necklace – you are very likely to know the exact value of the jewelry. You have bills and documents that attest to the authenticity of the diamonds, like a GIA certificate. However, if you are in possession of diamonds that you may have inherited, it is likely that you may ask yourself this question – how much are my diamonds worth? 
Antique or estate jewelry that has been inherited does not usually come with bills of purchase. Its been in the family far too long and has likely changed hands many times. In such cases, you must get expert advice on the value of your jewelry. However, there are some simple tests you can actually do at home to give you an idea if the diamonds are really genuine or clever fakes.
If you have loose diamonds, the best way to check if they are genuine is to simply put them in a glass of water. Diamonds have high density and so a real diamond will simply sink to the bottom of the glass without too much fuss. If it does not sink easily, or worse still, floats on water, it is likely glass.
Try fogging the diamond, like you do your spectacles to clean them. Just breathe onto the diamond and see what happens. If the condensation remains for some time, it is likely glass, as condensation does not stick to real diamonds easily and vaporizes quickly.
Of course, these are coarse methods but they will definitely give you a basic idea of what you are really holding. The real appraisal comes from experts. If you know a jeweler, you can approach them and get your jewelry appraised for a fee. These diamond experts have special magnifying glasses to look inside the diamond with a  keen, trained eye.   
If you want to get a completely free, zero-obligation appraisal of your jewelry, you can approach Vasco Assets. We have in-house diamond experts and also have access to a network of top appraisers in all kinds of luxury assets. They will valuate your diamond jewelry and provide you with a detailed report that will give you valuable insights into your jewelry.
Many times, we may be led to believe that the value of the jewelry we have is the sum total of the current market price of the precious metals and the gems used to make it. However, we fail to take its history and timelines into consideration. The jewelry you possess might be antique – made at least 100 years ago – with a rate design and fine workmanship. This alone bumps up its selling price. It may have belonged to a famous personality, maybe even royalty. All of these aspects inflate the value of the jewelry many times over than the market prices of the elements that have gone into its making. The experts at Vasco take all of these factors into consideration while making their valuation.  
Where to Sell Jewelry Near Me?
There are several options for selling your jewelry. Let us discuss them.
Consignment Shops (Physical and Online)
A consignment shop is either your nearby jewelry store or an online marketplace. When you approach a consignment store, they will valuate your diamond jewelry and put a price on it. Then they will place it for sale, using their infrastructure to market the jewelry. When someone shows interest in your jewelry and buys it, the consignment store pays you the money minus their commission. With a physical store, you can bargain for a better deal. However, online consignment marketplaces usually do not allow you to have a say in the pricing of your item. They usually have a "take it or leave it" offer. With consignment stores, you may get around 60-75% of the selling price, while the rest is often pocketed by them as commission.  
The first place to go for many individuals wanted to sell a collectible. The best part about pawnshops is that they will offer you a spot price (which may definitely not be the best price!) and if you agree you can walk away with money immediately. However, the deal you get at pawnshops is usually less than all other avenues of selling your jewelry. This is mostly because since they are not expert diamond buyers, they do not have skilled valuators who can see the real worth of your jewelry.
Outright Luxury Asset Buyer
An outright jewelry buyer, as the name indicates, won't let you wait for your money. They offer you the benefits of a pawnshop but will almost always give you a better deal, not to mention an extremely professional service. This is because they have a team of expert valuators with a lot of experience performing jewelry appraisals. They also have a large network of buyers at their end who are always looking for fine jewelry and other luxury assets to buy. The documentation is quick and hassle-free and if you accept their deal, you can get paid within a day, in most cases. Vasco Assets is a multinational luxury conglomerate with years of experience dealing in all kinds of luxury assets, including fine jewelry. The expert valuators at Vasco will give you a completely free valuation of your diamond jewelry and also offer you the best deal.
Funding Your Retirement: How Vasco Can Help?
As noted earlier, the actual value of diamond jewelry is much more than the current market value of the precious metals and gems used to make it. The design, its age, its wearability, and so much more go into giving a piece of jewelry its selling price.
Vasco Assets are not just industrial buyers, meaning they are not just interested in the gold and diamonds, but also its unique history. Because we also have a large global network of accredited buyers many of whom are collectors of fine jewelry.
So if you are worried, that your inherited old jewelry items might not amount to much, you'd be surprised once you receive your actual valuation from Vasco. Who knows what information you get. Even if you have the jewelry you might have bought during your time, you may rest assured that Vasco will offer you the highest price in town.
Once the valuation is done, we will offer you the top dollar price for it. If you are happy with our offer, you can walk away with money within the day.  
To get a free, zero-obligation valuation from our experts, you can visit our offices at 2024 Quail Street, Newport Beach, CA 92660 or send your items through our Sure Secure Shipping. To know more, call us at 949.679.2300/800.688.2994, or write to us at info@vascoassets.com.
---