June 13, 2022 0 Comments Diamonds, Jewelry, Luxury
Vintage Diamond Rings From Estate Sales: Getting A Good Deal Before The Bubble Bursts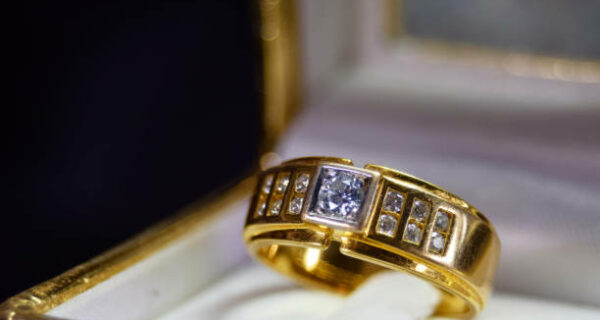 Vintage items always elicit nostalgia, not to mention attracting scores of buyers who'd pay top dollar for them. Currently, the market is hot for estate jewelry and collectors are searching for great pieces of art and old charm to add to their collections. So if you possess that amazing diamond ring passed on to you from your grandmother, now is the right time to think about estate sale diamond rings and get some much-needed cash flow to stave off financial uncertainty.
Why Buy Estate Jewelry?
All luxury items go through phases of high and low demand. While they do possess inherent value, the phases will decide how much you'll get for a luxury item you own. And estate jewelry is no different.
If you are a fashionista or even a casual onlooker who keeps track of the fashion market, you may have observed a renewed interest in bold, chunky art deco designs, after the last few years of minimalism. Maybe we are expressing positivity and happiness through our accouterments after a couple of difficult years spent during the global pandemic! Art nouveau designs in white gold, 18k yellow gold, rose gold, with gemstones, and solitaire is making a big comeback with necklaces, brooches, and filigree trends.  
So while designers are busy getting inspired by vintage jewelry to craft new designs for the modern wearer, nothing can beat the allure of the real thing. So if you are in possession of some real vintage stuff, you are in demand! Art connoisseurs and discerning collectors are looking for high-quality vintage jewelry and you may want to leverage this opportunity and sell off your vintage jewelry before the bubble bursts!
What You Should Know About Your Old Jewelry?
Estate jewelry, as the name indicates, is pre-owned jewelry that is part of a deceased (or living) person's estate that has now come into the possession of a legal heir (or an individual who was sold some of it). While all estate jewelry is usually decades old and is often passed down generations, it can be classified into two types – vintage and antique.
Vintage estate jewelry is usually made within the last 100 years and anything between 50 and 100 years old can be safely placed in this category. This kind of jewelry is a fine blend of changing esthetics of the last few decades and usually is endowed with designs that hold a lot of emotional value and are regarded as collectibles – especially those made in the 1930s and 1980s. Vintage jewelry designs can be worn and can also be easily incorporated into current fashion trends (like what we are seeing these days!) to create a unique retro look.
Antique estate jewelry includes pieces that are at least 100 years old. These are the most collectible of all and their value is determined by factors like origin, history, rarity, design, and age. Antique jewelry is usually made with a much superior level of craftsmanship using high-quality material. Georgian, Victorian, and Edwardian era jewelry is highly popular in the collectors' market. To hold a piece of jewelry made by expert and highly skilled hands more than a century ago provoke a range of emotions. Unless in great condition, most antique jewelry pieces are difficult to wear.
Reasons Behind the Renewed Interest in Estate Jewelry
Regardless of the current bubble, fine old jewelry is always in demand. The reasons are manifold.
Nothing beats or explains the abstract emotion of nostalgia. A particular piece of jewelry may prompt a bouquet of emotions in the buyer – maybe it reminds her of happy times with her grandmother who used to wear a piece of a similar design.
The value of a piece of estate jewelry may go through the roof, beating all your expectations if it has a rich history behind it. Maybe the diamond engagement ring with a fine navette or marquise vintage diamond of your grandmother was previously worn by royalty? Maybe it has a fascinating story attached to its rich timeline?   
Maybe the potential buyer loves creating a personal style statement with rare old European and mid-century designs? Where would one get intricately designed jewelry but from estate jewelry? Such an astute individual will go to great lengths to own a fine piece of jewelry.
Again, there is nothing to explain this idiosyncrasy! Collectors of vintage items are flush with excess funds and fuel their interests by searching for rare luxury items and adding them to their collection. Old and exotic jewelry attracts like nothing else!
Where to Sell Estate Jewelry?
There are different ways you can sell estate jewelry. Each has its own advantages and shortcomings. While choosing the right place to sell your estate diamond jewelry, consider the important facts of the buyer – reputation and ease of the selling process, and the value you will get from your estate ring.
Consignment stores – physical and online – use their infrastructure to showcase your items and marketing methodologies to help find the right buyers. For instance, if you go to your neighborhood jewelry consignment store, after an initial assessment, your jeweler will offer you a price. If you are happy with it, he will display it in his store. When a buyer shows interest in buying the item and the sale is made, you will get paid the amount less the jeweler's commission. The same goes for an online consignment store, however, in this case, you have no role to play in the list, or offer price of your item.
In the case of a consignment sale, you will get paid only when your item is sold. This could take days, weeks, or months. So if you are looking to raise some cash immediately, this is not the right option. You will also not get the full market value of your item as there is a commission involved that goes to the consignment jeweler.    
Your neighborhood pawn shop is a good place to sell estate jewelry. However, as the reputation of pawnshops goes, they are very hard nuts to crack and will always bargain heavily before paying for an article. Also, they usually do not have expert appraisers who know the real worth of a piece of jewelry so you may not get the actual worth of your estate jewelry. But the best part is that you can go in with your diamond ring and come out with hard cash.
Outright Luxury Item Buyers
Luxury item buyers deal with all kinds of luxury items, not just jewelry, and have a large network of experts in various luxury items. For jewelry, they usually have a team of in-house experts who can correctly appraise a piece of jewelry, so you are assured of the best price for your estate jewelry. Also, their processes are swift so you can expect to get paid within a few days.
Getting the Best Deal from Vasco
Vasco Assets are a multinational luxury conglomerate that focuses on financing ia luxury assets. We provide a completely free-of-cost and no-obligation evaluation for your estate jewelry. You can either visit our offices or send your items through our prepaid service – Sure Secure System – to get a detailed evaluation report from our certified diamond buyers and top jewelry experts.
At Vasco, we are as passionate about helping individuals know their luxury assets better as we are about helping them get financing through a variety of options involving their luxury items. Even if you decide not to sell your estate jewelry to us, you will still go away with useful and valuable information regarding your items. Our professionals will patiently answer all of your questions regarding your jewelry.
Unlike consignment jewelers or pawn shops, we neither make you wait to get paid until after your item is sold, nor do we bargain with you on the price of the item. As outright buyers who have a vast global network of industrial and accredited buyers, we know the true worth of luxury items and always endeavor to offer you the best price for them.
If you are ready to sell your estate jewelry, contact us for a free evaluation today.
---